Our manufacturing department was established in 2018 at the Ben Lomond Head Office to offer a solution to our customers who required custom designed protective clothing that comply with industry safety standards . At B.L.I.S.S Ltd, we pride ourselves as being the preferred supplier of industrial work wear. Our garments are manufactured for various sectors in the industry such as but not limited to; Oil & Gas, Construction, Manufacturing, Utilities and so much more, even for those who love fixing things around the home.
We aim to accommodate a wide cross section of the working class as we offer Standard-off-the-shelve sizes as well as custom fit measurements no matter the size.
B.L.I.S.S Ltd also offers a wide variety of multiple color options in various configurations such as shirts, pants, coveralls, lab-coats, aprons, medical scrubs and safety vest. All of these can be enhanced with reflective tape, Safety Patches, National Flags and Your Company Logo in Embroidery, Screen Print or Heat Transfer.
TRINIDAD & TOBAGO BUREAU OF STANDARDS
The Trinidad & Tobago Bureau of Standards (TTBS) is a corporate body governed by the authority of the Standards Act No. 18 of 1997. It has a statutory responsibility for the quality of goods and services, which are subject to trade in the Republic of Trinidad & Tobago.
Our clothing line is tested, approved and registered with code TTBS #2550.
PROUDLY T&T
Trinidad & Tobago is the Caribbean's dominant manufacturing territory with over 100 manufacturers offering world-class and award-winning products. BLISS Ltd. is proud to be part of this contribution and affiliated with the  Trinidad and Tobago Manufacturing Association (TTMA) with our PPE garment brands. Quality, Service and our customer's safety are essential foundational goals we adhere to.

NFPA 2112 & 70E COMPLIANCE
The National Fire Protection Association (NFPA) is a U.S.-based international nonprofit organization devoted to eliminating death, injury, property, and economic loss due to fire, electrical, and related hazards. They provide researched and well tested standards and regulations for PPE clothing under the codes
1. NFPA 2112 for Standard on Flame-Resistant Clothing for Protection of Industrial Personnel Against Short-Duration Thermal Exposures from Fire and
2. NFPA 70E requirements for safe work practices to protect personnel by reducing exposure to major electrical hazards. Originally developed at OSHA's request, NFPA 70E helps companies and employees avoid workplace injuries and fatalities due to shock, electrocution, arc flash, and arc blast, and assists in complying with OSHA 1910 Subpart S and OSHA 1926 Subpart K.  
All our Flame Resistant PPE Garments utilise NFPA 2112 and NFPA 70E certified cloth and threads.
CITY WEAR
Our CITYWEAR line is manufactured using Flame Resistant Fabric from ISO Certified Factories out of the USA. Our fabric selection for CITYWEAR Flame Resistant Apparel are NFPA 2112 Certified and NFPA 70E Compliant making it an excellent choice for Arc Flash and Flash Fire Protection.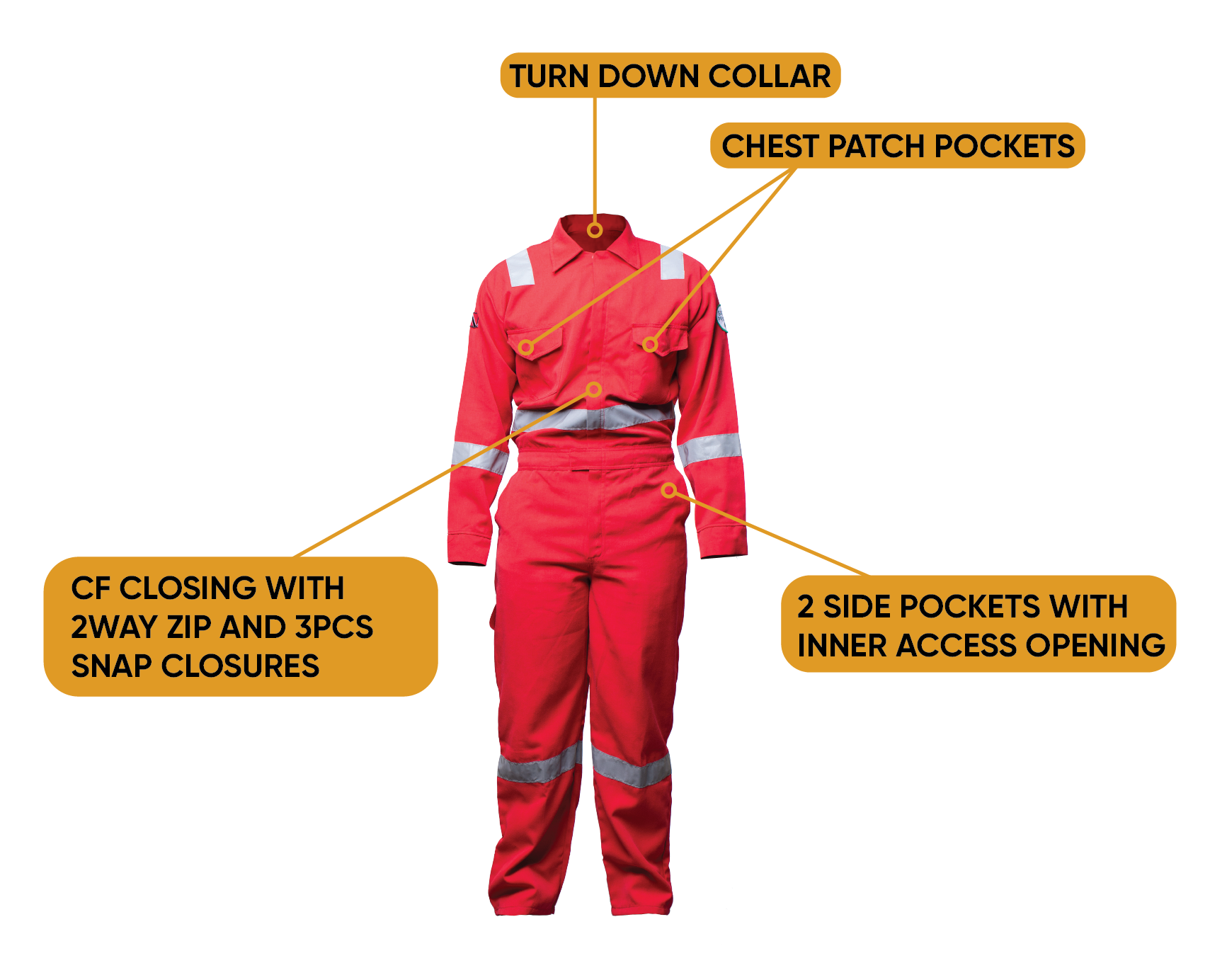 CITYWEAR FRC SPECIFICATION SHEET
CityWear Fire Resistant Clothing specification PDF document. CityWear garments can be customized to facilitate customer's safety requirements. This document focus on international standards used by BP PLC (British Petroleum Public Limited Company.) and the Oil and Gas industry.
ULTRAFIT
ULTRAFIT is our Non FR line and is made from 65/35 Poly Cotton Fabric and Denim.
SAFETY • CUSTOMIZATION • INDUSTRY STANDARDS
We treat our customer communication with utmost priority. However please understand that we also tend to other customers and our operations. You will receive a reply within 24hrs. For a more immediate response you can call us via any number on our contact page.